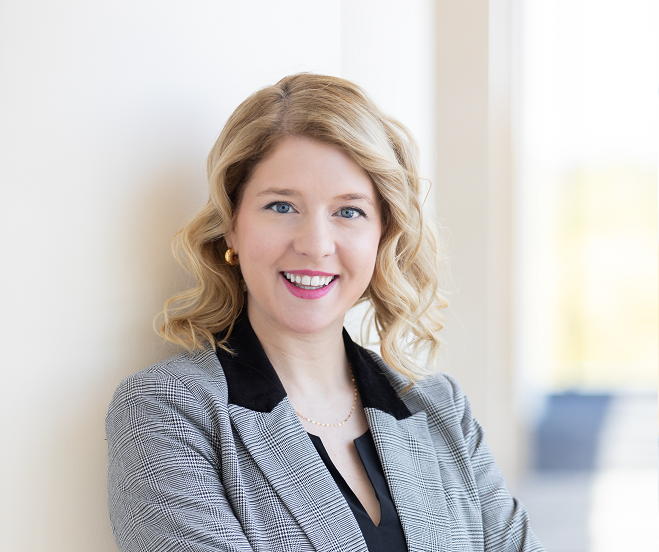 Lauren Fields leads the domestic litigation team at Roth Davies, LLC. Lauren has extensive experience litigating family law matters. Lauren's practice centers around helping clients with family law issues whether that be a divorce, paternity, custody, prenuptial agreement, postnuptial agreement, parenting time, spousal support, or a child support dispute. Lauren handles both complex, contested cases and uncontested cases.
Lauren is passionate about her cases, which helps her connect with her clients, negotiate effectively, and reach settlements. Whether your case requires mediation, depositions, or trial, Lauren is a zealous advocate and will always seek to achieve a client's goals while keeping them involved in their case and communication lines open.
Lauren is admitted to the Kansas bar and has handled cases all over Kansas. Lauren's primary source of work is in Johnson County, her familiarity with the local jurisdiction, local rules, and local practices can be invaluable when advising a client about how to advance the goals of their case.
Lauren has won several client awards, including voted the "Best Divorce Lawyer" in Kansas City two years in a row in The Pitch newspaper.
Lauren was born and raised in the Midwest. She graduated Magna Cum Laude with honors from Drake University prior to attending the University of Kansas School of Law. Outside work, Lauren enjoys spending time with her children and husband, playing with her two dogs, and watching Chiefs football.
"No one imagines themselves in a divorce or custody battle. But if the situation arises, you will need a high level of service with a strong and attentive attorney to achieve your goals. I have several years of experience providing quality representation to both men and women in Kansas. I advise when to settle your case through strategic negotiation to save the expense and fees of trial. I also advise when to take the case to trial to protect your interests or your children. I provide each client with a personalized and comprehensive case strategy, and I will fight for reliable results in every step of your case. If you would like to discuss your case with me, please schedule a free consultation today at 913-451-9500."
EDUCATION
J.D., University of Kansas School of Law

B.A., Drake University (With Honors)
BAR ADMISSIONS
PROFESSIONAL ASSOCIATIONS
Johnson County Bar Association

Kansas Trial Lawyers Association

Association of Women Lawyers of Greater Kansas City

Kansas City Metropolitan Bar Association

Earl E. O'Connor American Inn of Court

Johnson County Family Law American Inn of Court