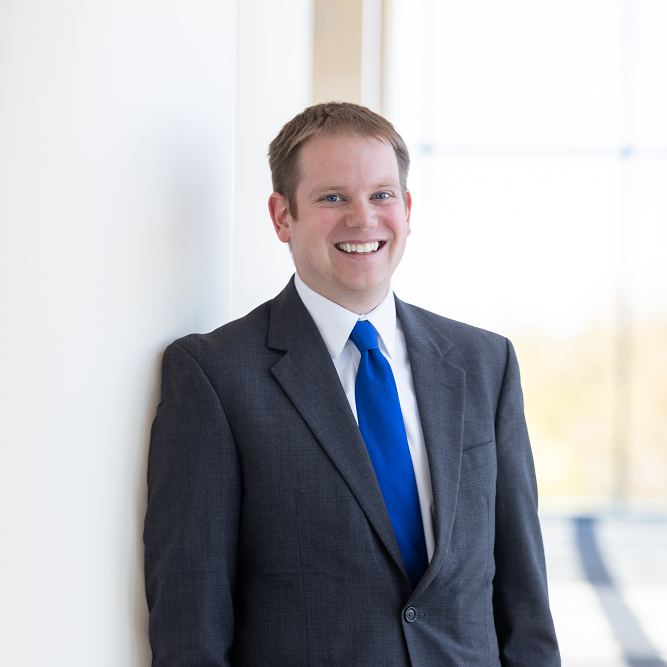 Collin Huerter is a trial lawyer handling criminal, DUI, and traffic matters. Collin represents clients who have felony and misdemeanor charges in Johnson County District Court as well as those with cases in the various municipal courts across Johnson County. Collin has honed his trial skills in courtrooms across Kansas. Collin understands that success in the courtroom is often attributable to the hard work that goes into each case before getting to the day of the hearing. Being charged with a crime is a serious matter and it needs more than a one-size-fits-all approach. That's why Collin works hard with each of his clients to identify and meet their goals in any given case.
Collin was born and raised in Topeka, Kansas. Collin is a graduate of Kansas State University. For his leadership efforts and service to the university, he was one of four students to be named a Pat J. Bosco Outstanding Graduating Senior. Collin graduated with a bachelor's degree in Political Science, a secondary major in International Studies, and a minor in Leadership Studies.
Following his graduation from Kansas State, Collin returned to Topeka having received a full-ride scholarship to attend Washburn University School of Law. Collin was again part of many organizations, ultimately serving as the leader of the student body when he was elected as the President of the Student Bar Association. He graduated with Dean's Honors and was shortly thereafter admitted to practice law. Since that time, he has been a trial attorney practicing primarily in the area of criminal defense.
Outside of work, Collin volunteers for the Boy Scouts of America. Collin, who himself is an Eagle Scout, remains an active volunteer on the local and national levels for the organization, often traveling to serve as a staff member for events across the county. Currently, Collin serves as the Associate Section Adviser for an area covering parts of three states.
Collin is married to his wife, Alexis who is a middle school teacher. They have one daughter. When he's not working or volunteering, Collin enjoys spending his time with his family and friends, watching football, and traveling.
Education:
J.D. Washburn University School of Law (with Dean's Honors)
B.A. Kansas State University
Bar Admissions:
State Bar of Kansas
Professional Associations:
Johnson County Bar Association